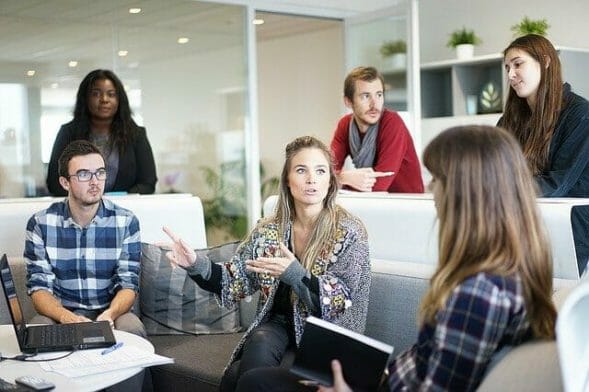 Who are Intrapreneurs?
Employees who act like entrepreneurs while working within a company are called Intrapreneurs. What essentially makes an intrapreneur stand out in their way is that they are innovative, usually, come up with new ideas and take the role of a leader. They can utilize existing resources and foundations available in their company of work to create new ideas that may be implemented into the company leading to its growth.
The idea of intrapreneurship is quite fascinating as it provides people with the stability of a job and freedom of entrepreneurial experience at the same time.
Comparison of Intrepreneurship with entrepreneurship
Entrepreneurs, for their business to grow, face uncertainties to manage with various aspects. This may be overwhelming as individuals have the pressure of managing their whole business without lows, especially if the business is their only source of income they can rely on. Also, for an entrepreneur, the uncertainties can be due to the lack of resources needed to expand their business which leads them to fall back and have a huge financial impact on them.
At this moment, intrapreneurship comes into the picture and could be argued as the perfect blended opportunity to grow.
Why Intrapreneurship?
Intrapreneurs are self-motivated, proactive, and action-oriented individuals who can think out of the box. An intrapreneur can be comfortable in his position as they are employed in a company with a guaranteed income. Also, they can have access to the resources and tools provided by their company. Besides, they are allowed to completely focus on their vision and ideas and work towards them and bring them to life with a far less perceived risk.
How interesting is Intrepreneurship?
Intrapreneurs are also considered as the future of business as they can be the creators of change. Intrapreneurs are comfortable in their working role, can be more innovative, and produce their ideas to implement and act as change agents which will have a huge impact on the business and the business may evolve, opening doors to new levels. Besides actively creating change in the business, they also can become role models for the change they made which will inspire their colleagues or other companies enabling a follow in similar footsteps.
An element of 'risk' is involved for a change to occur and many companies are afraid to adopt to this factor as they are unaware of the repercussions and risks posed in the future for trying out something new in the business. This is where intrapreneurs come into the picture changing the future of business by creating a culture that is daring enough to take up risks and face them with courage, and this provides the company with an ability to grow and prosper.
Intrapreneurs' space for thoughts and work 
As a whole, intrapreneurs are leaders by being able to take and bear the risks and enforce a change. In turn, they could encourage and influence their peers, thereby improving organizational culture and bottom line. They differ in their thoughts and actions by adopting different motivations and aspirations which leads them to want to work in different working environments. They can scale what it takes to adapt to a working environment that constantly keeps changing. They bring innovation, growth, leadership, and the unknown to the table as they go against the traditional set up of an organizational workplace.
With all these ideas in mind, a workplace that has thriving and innovative intrapreneurs can be an enthralling ambit to join and work with assured freedom of thought. The ideas, inputs, and decisions by intrapreneurs in the company could lead it to become one of the most powerful work agencies. A continuous growth can be seen as there would be innovative ideas rolling out to ensure the company keeps growing and come up with big things in time.
So, there is a scope of potential growth if the employment will be in terms of intrapreneurial regard. Companies must adapt to hire intrapreneurs seeking a change in the working world. Also, an individual has to be liberated in sharing thoughts and ideas in a company enabling the inner entrepreneur in him/her to become an intrapreneur in his field of work. A future big picture can be envisioned by flourishing intrapreneural culture in the work environment of companies.